STARTED WITH THE STRUGGLE OVER ASSETS
JANE WORRIED ABOUT HER FUTURE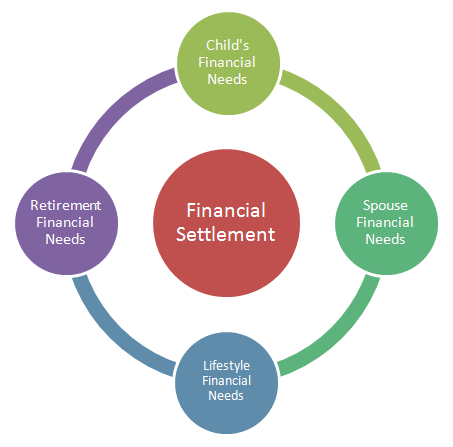 HOW? SO MANY NEEDS, SO LITTLE RESOURCES!
JOHN WAS WORRIED AND PROTECTIVE OF HIS ASSETS.
JOHN CONTACTED ALBERNIMEDIATION
LETS SEE HOW THAT HELPED?
JOHN AND JANE MAKE A PLAN TO SEPARATE 50/50 TO BE FAIR
John and Jane own a home worth $265,000 with a net equity of $77,500. Their retirement savings total $165,500. John earns $90,000 a year and has a take-home pay of $68,760 a year. Jane, a homemaker, hopes to get a part-time job paying $12,000 a year. After the divorce, Jane and the children will live in the matrimonial home. She will also receive $44,000 of the retirement savings while John will receive the remaining $121,500, thus dividing the assets equally. John will pay Jane spousal support of $600 per month for five years and child support of $225 per month per child. He will also pay the children's college costs, starting in four years. John's expenses include living expenses, child support, spousal support and education costs. Jane's expenses include support of the children and are reduced when each child leaves home. Seems reasonable, and equal right? However, a detailed analysis creates the financial future illustrated below.
WORKING CAPITAL:
On the right we have the amount of money on hand, in the bank or in investments readily available.
NET WORTH: On the left we have the value of all assets including property, investments and cash savings. At age 51 Jane can not sustain herself (blue line in right graph drops below the ZERO line). This would also negate her net worth not shown on the left which would have plummeted at age 51 if she had to sell everything to manage.

Jane's assets will be depleted within seven years, whereas John's investments will grow dramatically. She can not afford to stay in the home and could have chosen to sell and downsize but that would mean moving the children from the neighbourhood they grew up in. She would then have to greatly increase her income but she has two children to care for and no career training. Had she settled for the above plan which on the face looks equal she would have gotten the lump of coal and her husband the diamond half, a result not intended by either.
SO WHAT DID JOHN AND JANE ACHIEVE BY HIRING US?
An alternative settlement could provide her with increased spousal support of $1,300 per month for 10 years –which would actually cost John $975 per month in after-tax dollars. Child Support Guidelines for two children is $1,345 per month for a payor with John's income. Jane could also be provided an additional $24,300 from retirement savings. These changes in the original settlement would produce the results illustrated below.
John will still have a surplus, which he can add to his investments. If John stays on budget and invests extra income, investments will grow to $1,350,000 and his net worth will reach $1,608,000 by age 65 (total of almost 3 million). The CDFA using proprietary software helped them find the best combination to achieve their goals.
(for a video demo of this process see button below this text).
* Note this is a simple example, most portfolios contain more complicated considerations: impact of deductions on income, capital gains, pension evaluations, CPP splitting, separate vs marital property...
HERE ARE THE GRAPHIC RESULTS OF PLAN TWO
WORKING CAPITAL: Also this redistribution of income, support, and assets provides a decrease in John's working capital by only $200,000 at age 65 but most importantly Jane achieves a strong future with $300,000 in the bank for her retirement. She will not need to return to court to petition an order for more support.
NET WORTH: By making the changes in asset sharing John's net worth is close to the same while Jane's is more than tripled by age 65. This provides Jane with more than $500,000 greater net worth which can be converted to retirement funds if needed.
/